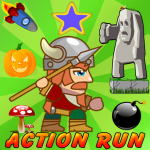 Itunes: https://itunes.apple.com/app/action-run/id571989217
Amazon : http://www.amazon.com/Multinetz-Action-Run/dp/B009Y8Y19A/
Google Play: https://play.google.com/store/apps/details?id=com.multinetz.ActionRun
Clear a safe track for Action Run Hero by destroying bombs, killing monsters, operating bridges and avoiding hazards and collect as many stars as you can!
You must rescue Hero man every Level.
Escape Hero Escape, He need your finger , the way is dangerous.
Think fast and don't hit any of the obstacles!
It is fun and entertaining. A good way to spend your leisure. It is easy to play and understand.
Start playing it with your kids and enjoy the game with your family.
-50 Fantastic levels (5 Worlds)
-Funny speech
-High quality Graphic design
-Increasing Difficulty
-Interactive scenes with varied game play.
-A special bonus platform game for collecting 500 stars and 500 bonus Coins.
The terrain is very carefully designed and it makes the game more enjoy.
Once you pop,you can't stop!
More Multinetz Games: Mega Ninja Run , LabyRinth , Doodle Jetpack , Labyrinth Galaxy , Doodle Sprint fly and jump , Temple Runner , Kick the Zombies , War , Amazing Tap , Cut The Finger , Spy Match, Doodle Buddy Jump and more
Have great fun gamers.
(\_/)
( •,•)
(")_(")
??? Support: If you have any technical problems please visit us at Http://multinetz.com
Tags:
2012
,
3 4 4s 3g 3gs
,
angry birds star wars
,
chicken
,
Hay day
,
he-man
,
Iphone jailbreak 5
,
Kids
,
roo
,
Runner
,
Running
,
Slender
,
slender-man