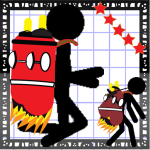 Itunes: http://itunes.apple.com/us/app/doodle-jetpack/id499131042
Amazon: http://www.amazon.com/Multinetz-Doodle-Jetpack/dp/B008XNT3A4/
Google Play: https://play.google.com/store/apps/details?id=com.multinetz.doodlejetpack
In 2090, the earth is destroyed and all humans disappeared. It's time for Doodle Jetpack now. He wants to find the truth about the planet earth! He learns how to make money to survive. You play the role of Doodle Jetpack. With Doodle Jetpack you can conquer the earth.
Try this game and you won't be sorry! In this game you need to have a fast mind and a fast finger.  It is a cool game. It is good for everyone (also kids ) who are not very conversant with the other controls of the different types of games.It is fun and entertaining. A good way to spend your leisure. It is easy to play and understand. Start playing it with your kids and enjoy the game with your family. Doodle JetPack is a  game that will keep you tapping away all day!
*you can compete with other players via Game Center.*
Absolute addictive game play – everyone playing this game will confirm: it's one of the most addictive Action games on the App Store
– Features
– Over 1000 levels
– HQ sound effects
– Best top graphics designs.
– Game Center – Day and night simulation
– Playing slot machine to win a big jackpot. – Digital Speech
The terrain is very carefully designed and it makes the game more enjoy.
Once you pop,you can't stop! Have great fun gamers.
Support: If you have any technical problems please email us at support@multinetz.com
***** If you like Doodle Jetpack, please rate it 5-stars in iTunes (every time) an update comes out! As always, your 5-star iTunes ratings and reviews keep the updates coming! Thanks for playing Doodle Jetpack!! *****