Run, jump and roll as best as you can in Super frozen arctic and avoid the obstacles on your way.
Penguin Race 2 is READY TO PLAY! more action, more fun and more entertainment for you and your family.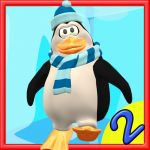 Apple Store: https://itunes.apple.com/app/penguin-race-2/id599290588
Amazon: www.amazon.com/gp/mas/dl/android?p=com.multinetz.PenguinRace2
Google Play: play.google.com/store/apps/details?id=com.multinetz.penguinrace2
FEATURES:
* different World (Ocean, Dream, Jungle) with different difficulty.
* Run, jump and roll
* wonderful graphics
The terrain is very carefully designed and it makes the game more enjoy.
Once you pop,you can't stop!
Have great fun gamers.
Note: If you have any technical problems other concerns or questions, please visit our www.multinetz.com Home page.