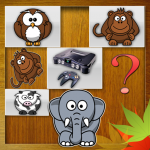 Download Itunes: http://itunes.apple.com/us/app/spy-match/id549914685
Amazon: http://www.amazon.com/Multinetz-Spy-Match/dp/B0092MRE1K/
Google Play: https://play.google.com/store/apps/details?id=com.multinetz.SpyMatch
Now for iphone ,The classic card matching game.Spy Match is a family card matching game suitable for all.
Test your memory! Flip the cards to reveal a matching pair But flip quickly … the clock is ticking. Find all the matching cards in each of the 3 game modes, Retro, Animals and Toys.
Start playing it with your kids and enjoy the game with your family.
All the cards are in a different place each game, see how quickly you can find them all!
Great for kids and adults!
Spy Match is a game that will keep you tapping away all day!
The terrain is very carefully designed and it makes the game more enjoy.
Once you pop,you can't stop!
Have great fun gamers.
(\_/)
( •,•)
(")_(")
Support: If you have any technical problems please email us at support@multinetz.com